Our Partners that we work with...
BDS are very fortunate to have its senior managers working in the Fire Alarm and security industry for many years and we have formed partnerships with the world's leading fire and safety product manufacturers. We are not tied to any manufacturer allowing us to deliver the most appropriate and cost effective products as part of our solutions. We are able to install and maintain equipment for the following suppliers:
Notifier, Gent, Morley IAS, Kentec, Advanced, Haes, Protec, C-Tec, Global, Fike/Rafiki, EMS, Apollo, Hochiki, KAC, Thomas Glover, Airsense, Vesda, Fireray, plus many more...
A sample of our key partners and suppliers are listed below but are not limited to them...

Through its dedication and loyalty to the Notifier Brand BDS have been rewarded with The Gold Partnership status. The Notifier by Honeywell Gold Partner programme is designed to promote the very highest standards of fire safety. The new certification programme, for Notifier's top Engineered Systems Distributors (ESDs), recognises partners' commitment to the Notifier brand through their skills in engineering fire systems, training, business performance and sales and marketing activities. Qualification for Gold Partner certification includes an audit by Notifier covering a number of areas, including technical capability, independent accreditation, business management systems, commercial competence and agreed levels of sales and marketing investment and support. BDS are the only Gold Partner to have its Headquarters in a London Borough and are able to resource & support our capital city and the home counties with confidence. Concentrating on this key area of the United Kingdom enables BDS to bring quality and flexibility when providing our full range of Fire & Life safety services
Click here to see our listing on the Notifier Gold Partner site
Bespoke Detection Services Limited (BDS) has had a long and successful relationship with Honeywell over the past 12 years supplying & using their Notifier brand. We have completed regular and comprehensive training programmes and have direct access to extensive product, technical and application support.
Successful Fire Alarm installations such as Ford Warley & Daventry sites, Law firms Pinsent Masons & Stephenson Harwood mean we continue to use Notifier as a solution to some of our most prestigious projects
Flexibility
A Notifier system is capable of not only monitoring its own performance but adapting to the changing environment within different areas of a building. This intelligent approach to fire detection has resulted in a range of stable, fault-tolerant systems which provide uninterrupted protection whilst practically eliminating the potential for nuisance false alarms.
When selecting and installing a fire system, offices, factories, schools, historic buildings, laboratories and data centres They all pose their own distinct individual challenges. But rest assured, Notifier's flexible, modular approach, backed by the expertise of BDS, means the requirements of any building can be fully met.
When it comes to choosing a company to install and maintain a Notifier system in your building, you can be confident you are working with a company that boasts the experience and expertise you demand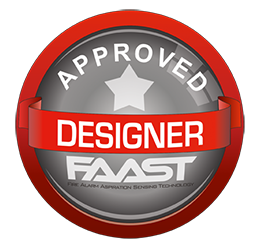 Aspirating smoke detection is a specialist subject area requiring a clear understanding of specific design principles, regulatory compliance and installation methods. BDS have just been awarded this prestigious accreditation from Honeywell and it is a great fit with our Notifier Gold Partnership with Honeywell...
Click here to find out more about the FAAST ICON AWARD PROGRAMME, and here to go to the website and see our listing
FirePro - Fire Products UK (FirePro UK) supplies complementary and innovative fire engineering products that will rapidly detect, alert, and extinguish fire at the earliest possible stage, and long before the arrival of Fire & Rescue Services.. Visit their website here
The Hyfire wireless fire detection and alarm system is the UK's leading EN54 compliant system and has therefore become the choice of many blue chip companies. It is the preferred wireless product for many of our clients
Applications vary in size from a small family guest house to a major shopping centre and covers all sectors of industry and commerce
The Hyfire System has the ability to integrate seamlessly with different intelligent protocols and control equipment, including Notifier and has established close working partnerships with some of the UK's leading manufacturers to ensure that the resulting life safety systems and the support for these systems is of the highest standard
BDS became a Gent systems integrator in 2001 growing to an Elite SI before merging with ID Group, Installing systems in many prestigious buildings and incorporating highly developed cause and effects programs.  BDS are still able to support and obtain the Gent fire detection and alarm brand via a number of London and South East based System Integrators, a supply network that has been developed over the past 12 years by the BDS Managing Director Kevin Blyde
The Vigilon panel manages up to 6 loops each accommodating up to 200 devices on each loop, including repeat panels, interfaces, call points, sensors and sounders. The Vigilon panel is available with 24 and 72 hour standby options. Advanced networking options allow multi domain networks of up to 200 panels/nodes with options of copper or fibre connections
Sites that have been designed installed commissioned and maintained by BDS using the Vigilon S Quad protocol are Kings Place, Camden Market, Park Plaza Hotels, Royal Marsden Hospital, Addleshaw Goddard LLP and the Palace of Westminster to mention but a few, Systems continue to be supported with our engineers having full network and Graphics capability & support
BDS installs FAAST in 100 year old St Lukes chapel - click here to see the article
By choosing BDS to supply the Morley IAS brand, you are assured of working with two companies that has a well established reputation, BDS for its service delivery & Morley IAS for quality products with first-class support. The wide range of products from Morley-IAS allows BDS the freedom to design a system that best suits the customers' needs with the option to create, add, enhance whenever and however you wish. BDS is one of a network of trained installers and maintenance operatives and have installed large network systems in Hospitals supported by the visualize Graphics system which is a pictorial and textual aid for managing alarm activation in large sites such as hospitals, universities, prisons, hotels or industrial or commercial buildings. Information is presented in a simple and clear format allowing a situation to be quickly understood, Sites BDS have supplied Morley IAS to, using their graphics and network capabilities are, The Foreign and Common wealth office and Kings college Hospital London
Morley-IAS products meet local legislation. In the UK, all fire detection and alarm control panels are designed to meet EN54 Part 2 and Part 4 standards and approved by the LPCB to ensure compliance
BDS benefit from direct access to the full Honeywell range of VA/PA, ASD, Paging systems and Disabled Refuge systems. Backed by a dedicated support team, including training, technical support and factory acceptance test facilities, this market leading product range has been designed to meet today's increasingly complex regulatory requirements whilst providing our customers with a comprehensive set of tools when designing safe, compliant and cost effective fire detection and alarm systems.
Voice Alarm
Voice Alarm is increasingly important in the safe management of buildings. A voice message informs occupants exactly what to do in an emergency and it is a long established fact that people respond more quickly and are more likely to take the correct action during an evacuation if voice messages are used instead of tone sounders.
Benefits
•           Clear directions to people in the building
•           Live messages giving exact instructions to people who are not familiar with the surroundings
•           Customised pre-recorded messages (available in multiple languages)
•           Improved management of phased evacuation
•           Non-emergency functionality (public address announcements, background music and advertisements) Schools
Paging Systems
The Response Paging System offers the latest innovations in wireless paging and monitoring. It's a cost effective and flexible paging system that offers the ability to quickly respond to activated alarms, immediately notifying designated fire marshals exactly where an alarm has been triggered, ensuring alarms can be identified and validated quickly, reducing time and costs associated with unnecessary evacuations
FAAST - Fire Alarm Aspiration Sensing Technology
Aspirating systems offering the ultimate in false alarm rejection, remote connectivity and ease of use. FAAST has one focus. To protect people, mission critical facilities and high value assets by sensing the faintest traces of smoke, in a wide range of challenging environments. FAAST not only delivers zero false alarms, zero downtime and 100% business confidence, integration into the main fire system reduces the overall cost of maintenance
EVCS
The Equality Act (formerly The Disability Discrimination Act) made it the responsibility of all companies, nationwide, to ensure that access to buildings and services is available to everyone – there must be no discrimination. With access provided for all, provision must be made for safe evacuation in the event of an emergency. In some circumstances, those with physical impairments can be assisted by others – but in many situations this is not suitable or safe. An EVCS (Emergency Voice Communication System) or Disabled Refuge System allows emergency services to be in constant contact with the people in the refuge areas who seek assistance and enables the fast safe evacuation of all building occupants
Established in 1981, C-TEC is a leading UK independent manufacturer of quality life safety electronic equipment with a portfolio of products that includes fire alarm control panels, fire detectors, voice alarm systems, power supplies, disabled refuge systems, nurse call systems and audio-frequency induction loop systems. BDS have been using C-TEC for 20 years incorporating their manufactured equipment to supply an open protocol solution when specified and where their solution best fits the client's requirements
Eurofyre Limited is a privately owned company established in 2007, specialising in the supply of fire detection and associated safety products throughout the United Kingdom.
In particular BDS regularly use their EF-FT15 Aspirating Smoke Detector
The EF-FT15 is a unique 15 pipe high sensitivity air-sampling smoke detection system, capable of sampling from up to 15 individual, identifiable areas or cabinets simultaneously. The system uses unobtrusive, easy to install 6mm O.D. microbore flexible tubing to transport smoke to the detector, enabling fast and efficient installation - particularly in difficult to access, aesthetic or architecturally restricted locations. Depending upon application, pipes can be left open-ended or terminated with high quality, attractive, flush chrome-plated or colour coded sampling points.
Eurofyre are known to be an innovative supplier of Aspirating detection systems as well as many other Fire alarm products
BDS has used Baldwin Boxall products on many prestigious sites such as Kings Place and Milton Gate

Core products include voice alarm systems (also known as voice evacuation systems, VACIE), public address systems, microphones and Emergency Voice Communication (or EVC) systems. EVC systems consists of: fire telephones, disabled refuge and roaming telephones. They are also a suppliers of disabled toilet alarm and nurse call systems.

We have found them always professional & willing to help
Ziton is one of the world's leading brands in the manufacturing of fire alarm equipment BDS have been working on Ziton products since its birth in 1993 it supported fire systems companies installing systems and continues to provide assistance with our engineers attending regular training programs
EMS Radio Fire and Security Systems Ltd have over 40 years' experience in the development and UK manufacture of radio-based solutions for complex fire and security problems. The ability to securely transmit data without the use of cable continues to gain user acceptance. BDS working with EMS can supply reliable and high quality wireless solutions for fire detection and security requirements of all types of buildings and site areas
Important update re system 5000 product -
Support for existing installations of System 5000 'Installed product can be repaired and EMS will offer a factory repair service for existing product both within warranty and thereafter; subject to continued supply of suitable components. This is envisaged to be for at least 5 years after 1st July 2013'. EMS still supply very high quality fire safety equipment and remain committed to supporting all of their products - click here for the full statement from EMS
BDS has had a relationship with Electro Detectors the longest standing radio fire alarm company in the world for many years, EDA now manufacture the most comprehensive range of wireless detection equipment available in the UK. Over the last few decades, radio fire systems have dramatically increased in reliability whilst reducing in both size and price. Todays' systems, from Electro Detectors, boast a long battery life and are as reliable as hardwired systems
Not only are these systems installed in historic buildings, where wires cannot be run, but also in a whole host of other premises, including buildings where disruption is a nuisance, temporary projects, and systems that need to be installed in a hurry, whilst still remaining competitive
Advanced fire panels and systems are known all over the world for their leading performance, flexibility and ease of installation and use. they hold global approvals including EN54 and UL 864.

BDS have engineers available that have attended their training courses and have delivered Systems from small, single-panel sites to huge multi-node networks, in many of the most prestigious and challenging locations
Kentec have been established over 25 years they have always offered excellent products, and implemented a continuous improvement policy throughout all areas of their business.

Using in-house resources such as a state of the art Surface mount line, Sheet Metal fabrication, Powder Coating and Silk Screen Printing gives Kentec has the ability to provide engineered products to our customers' requirements.

BDS has frequently used Kentec's comprehensive range of conventional, analogue addressable fire detection and extinguishant control panels
Alarmtronic Ltd design and manufacture Fire, Sprinkler and Water Detection Control Panels together with associated Ancillary Equipment. Over 65% of their manufacturing being of special manufacture, BDS will always use Alarmtronic for special bespoke equipment including the fitting and wiring of Third Party Items.
Range of Equipment Includes: -
Graphic Mimics, Ventilation Control Panels, Fireman's Control Panels,  Standby Battery Systems,  Remote Monitoring and Trace Heating Panels
E-mail us here with any further questions regarding our partners you may have please: questions@bds-fire.co.uk